WELCOME
It has taken a long time to put his page together. When building a web site, you have to set priorities on what you post. Since I am not a Web Designer, it requires a ton of time to post anything.
The Little Metal Shop is a place where I can build and fabricate my ideas and projects. The shop consists of a variety on machines and tools that allow me to fabricate just about any thing I want. The most prized machine in the shop is my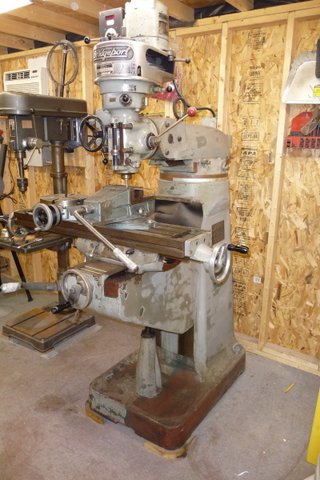 Bridgeport Milling Machine. It is from the 80's and I got it from a local machine shop that was replacing all it's millers with CNC models. I got the owner to toss in a vice for free, sweet. It is big, it is heavy and I had to get a friend with a large Bobcat, on at trailer, to help me transport it. Luckly the Bobcat could lift the miller and drive up the ramps and onto the trailer with it in the bucket. We strapped the Bobcat and miller down and off to the barn we went. The unloading was a breese, however I had to saws-all out a 58" x 8' section of my shop wall to get the miller in. I used a home made tripod and come-along to lift it on a 1-ton pallet jack and pulled it across the barn floor and into the shop. Once inside the shop, large leveling shims had to be made to level the thing up. Then 3/4" x 12" lag screws were used to hold it down.
Another great find was my Atlas Lathe. I got it along with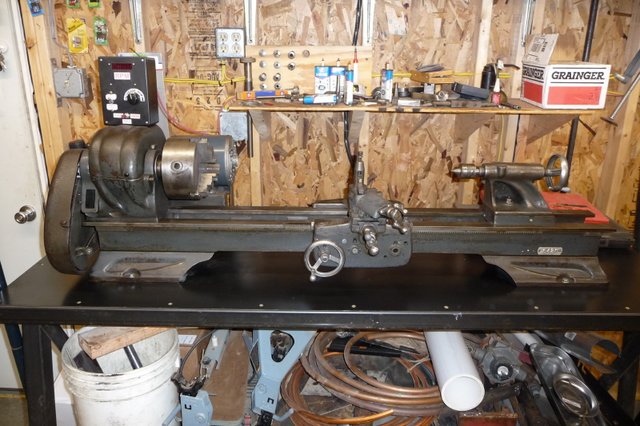 a floor standing drill press and a nice band saw. I dubbed it The Trifecta Purchase. During the construction of the shop, I had to make a run to Lowes for some OSB sheeting. While checking out, the Casheer (Pam} asked me what I was building and I exclamed, "a metal shop". Well her eys lit up and she asked if I was interested in a metal lathe and drill press. They used to be her fathers and she wanted them to go to someone who would use and take care of them. Well I was her man and the rest is history.
Another great addition to the shop was my Lincoln Precision TIG 185. Being an old Buzz Box welder, I realized there is no finesse in AC arc welding. If I was going to be welding stainless steel brewing vessels and small precision parts, TIG welding was the way to go. I learned to weld oxyacetylene when I was a teen and I found that the technique needed to TIG weld was nearly the same as oxyacetylene welding. The tough part is learning to correctly setup your gas flow, torch tip and amprage. The Lincoln Precision TIG makes it easy.
I also have a top knotch compressed air system. The 60 gallon air compressor sits in a utility room built on top of the shop. The compressed air pluming runs to a Cam-Air water seperator, filter and Decisant dryer. Then the air flows to a Sharp coaldicing filter and regulator and off to the mieraid of drop down outlet nozzled which run the length of the shop. The Utility room also houses the Natural gas furnace that warms the shop in the winter.
Another important aspect of the shop are the various Work & Assembly tables. Work areas are extreamlt important. I have a welding table that has a 1/8" steel top cover, A giant oak assemlbly table and two workbench areas. The big work bench is 14' long with an 8" vice mounted in the center. The left end of the work bench is where I build RC electric radio control planes. My favorite plane is my tricked out Slow Stick. It spins a 12" prop with trick Carbon fiber landing gear, wing supports, Tevec hinges and more. I hope to post the build some day.
Once I set up my shop, I made the jump from single phase to 3 phase power. 3 phase power rulez, especially when a frequency inverter is used to do the conversion. The frequency inverter allows you to adjust the speed of a 3 phase motorspeed based on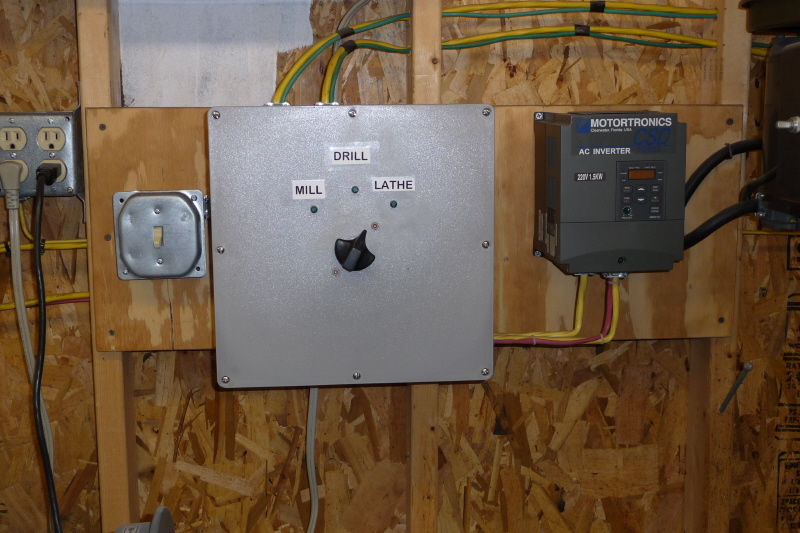 the Hertz setting. 60 Herts equals full power or full speed, 30 hertz equals half power or half speed. By twisting and turning frequency you can control forward and reverse, variable speed, ramp up & spin down. With this kind of control, I built a tachometer / control box for each machine that used 3 phase power. This way I could monitor the RPM of the machine while controling the motion and speed. I used a bunch of Radio Shack parts and some simple inverter settings to make this work. I stuffed all the heavy lifting into a 12" x 12" plastic box. The wiring was a nightmare. It took a week to draw up the wiring diagram, select the color coded wire and a way to mark what was completed. In the end, it worked on the first fire up.
Saws -n- Saws, it's all about saws and I have a bunch of them. Every project involves sawing raw material into smaller machinable pieces. Having the right saw for the job is a must. My saw collection starts out with a 14" Chop Saw, 14" Band Saw, 10" Table Saw, Electric Hack Saw and a Floor Standing Miter Saw. When I need to go moble, I use my DeWalt Electric Sawzall.
Tunes, Ya it's all about tunes. Most people have no idea what high fedility music sounds like or what a precision sound system is. If you like a great listening experience, you will probably appriciate my Shop Sound System. So lets get to it. The center piece of my sound system is a Denon AVR-5800 Audio/Video receiver. The AVR-5800's has many Home Theater and Stereo sound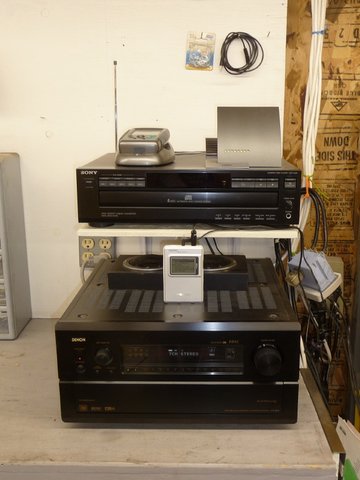 settings. My favorte is the DTS Neo:6 sound setting. This will take your stereo recording and convert the sound into 6.1 channel format.This allows you to bath your self in sound that comes from everwhere. If you want it loud, the Denon can pound it out. There are seven 170W amplifiers, each rated at 8 ohms from 20Hz to 20kHz. The THX Ultra logo means that the AVR-5800's amps are certified to produce rated power at impedances down to 3.2 ohms. This means rated power into real-world speaker loads. Speaking of speakers, my main front speakers are a pair of Acoustic Research AR-1 loudspeakers. The center channel speaker is a Klipsch Reference Series RC-3 II. The rear and side surround speakers are Klipsch Reference Series RB-5 loudspeakers. There is nothing like heart stopping/ground pounding base and to get out the base I use 4 modified powerered subwoofers. Two of the subwoofers are Sony SA-Wm40's. I modified them by adding 3/4 lbs of Polyfil to the interiors. With a 12" front firing driver and 120 watts, the Polyfil mod slows down the bass sound wave making the sub sound bigger than it is. The other two subs are Advent B2R Series subwoofers. When I first listened to them, I felt they could produce more. So I chucked the existing 8" drivers and routered out a hole big enough to stuff a pair of 12" Active drivers from Cerwin-Vega. This mod plus some Polyfil really brought out the bass. The 4 modified subs got a passing grade when listening to the heartbeat in "Speak to Me" from Pink Floyd's Dark Side of the Moon. This song will realy test the mettle of your subwoofer system. The last piece of equipment is a Terk "Q" Pi amplified AM/FM antenna. Being situated in a valley, I need a little help when going FM.
Well this is the end of my shop page. I hope you enjoyed reading it as much as I enjoyed writing it. I hope to add an RC plane section, however it may not be here. To the next time.